This last Tuesday we finally had book club. We had to skip our September book club for various reasons, so we discussed two books in November.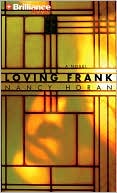 "Loving Frank" by Nancy Horan:
This book was liked by most everyone. Most of us disliked the main character, Mamah Borthwick Cheney and Frank Lloyd Wright. I have known of Frank's archeticture just from living here and reading things here and there, but I never knew about this story. It is a historical fiction meaning that the author found what she could from old letters between the two, but the rest was mostly her imagination. It talks a lot of his home Taliesin in Spring Green, WI. I would love to go and see it sometime. I don't want to go into too much about the story because the ending is so dramatic I don't want to ruin it if you want to read it. I also will warn you not to do too much research on Mamah or Frank if you don't want to spoil the ending.
My most favorite Frank Lloyd Wright house is Falling Water:
I also found out that he built the SC Johnson building in Racine. I worked there for a summer and I never heard that before.
The one that I've actually been able to visit is the Greek Orthodox Church in Wauwatosa:
"The Girl with the Dragon Tattoo" by Steig Larrson:
This book was liked by everyone at the club. It is based in Sweden and is a murder mystery. It was a little slow to start, but the disappearance of Harriet Vanger and who was responsible keeps you interested. I was a bit disappointed in the final ending, but overall I thought it was very good. This book is one of three written and submitted by Steig Larrson just before he died of a heart attack. I will definately be reading the next book, "The Girl Who Played With Fire".