Jake wanted me to dress up for Halloween too and who can resist a three year olds request?  I do like dressing up but I haven't for a few years.  I asked him what I should be and then suggested a witch and his eyes lit up and said "yeah, a witch!" 
I don't have any step-by-step pictures for this one, but everything was from what I found online and Pinterest.
I loved this skirt from Etsy, but it isn't on there anymore. 
I looked around online and found that making these types of tutu skirts is fairly easy.  I used this tutorial to make a no sew skirt.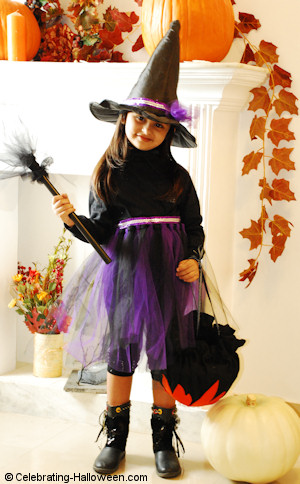 I bought 3 yards each of black, purple, green and orange tulle which was 3 yards for $4 at JoAnn's. I cut 18 strips of each color approx. 5'" wide.  I left the colors all the same length, but I cut the black strips in half.  I was hoping this would make it darker on top (hiding my behind). 
I ended up removing half the orange and green strips.  I did sew on a black ruffle I found at JoAnn's along the top to give it a more finished look.  In the end it was still a bit see-through so I ended up wearing my black skirt swimsuit bottoms underneath for added security and warmth.
This blog told me that the tights can be found at Target.  I couldn't find the green/black so I went with the purple/black and they are perfect!
Photo from How I Keep Sane
For the hat I found two great tutorials.  I used them both to come up with my design.  I used the first on for the base and head band attachment and the second one for the point of the hat.  I also added a little purple tulle flower.  In all this cost me around $2.
Photo from Prudent Baby
Photo from Delia Creates
For the top I just wore a plain black long-sleeve shirt and used extra black and purple tulle to make a scarf.  It was a little scratchy.  The shoes were black heels from my closet and are the most comfortable (actually the only comfortable heels) that I own.
I'll try and update the pictures after I wear it out tonight and put on some fun makeup.